Admissions & Open Days
Entry into Sixth Form
Admissions
Applications for September 2024 are now open. Please click on this link to register and apply https://kechgadmissions.applicaa.com/year12. Please be advised that the Applicaa platform is best accessed on a computer or laptop rather than a mobile device.
Once you have saved and completed your application, you are no longer able to edit it, so please save and check it over before you click complete. The deadline for applications is Friday 26th January 2024
We welcome applications from new students who share our high expectations and want to get actively involved in the wider life of our School and Sixth Form. Every year we offer places to a number of students from outside the School, wishing to join our community. Applicants from outside the School will need to complete an application form and are strongly recommended to attend the annual November Open Evening and to apply early. Students may be invited into School to discuss their subject choices. Existing Year 11 in Camp Hill Girls will receive advice about courses throughout the year, and an individual discussion with senior staff. Almost all of our Year 11 students choose to take their A Levels at Camp Hill. Our main wish is that students come with the intention of working hard and taking good advantage of the range of academic, extra-curricular and social activities that we offer.
Sixth Form entry requirements for September 2024, for both external and internal applicants are:
Six GCSEs at grade 6 or above, including English and Mathematics.
Grade 7 or above in each of the subjects (or related subjects) that students wish to study at A Level, apart from in Biology, Chemistry and Physics where a Grade 8 is required.
Subject to availability of places on certain courses, a grade 6 may be considered.
We do not apply catchment areas for our Sixth Form intake, nor do we prioritise students in receipt of the Sixth Form bursary. Offers of places in the Sixth Form will be conditional on achievement of results and the capacity on students' chosen courses.
Please note: We reserve the right to adjust entry requirements in light of the national picture for numerical grade outcomes each summer.
Sixth Form Open Evening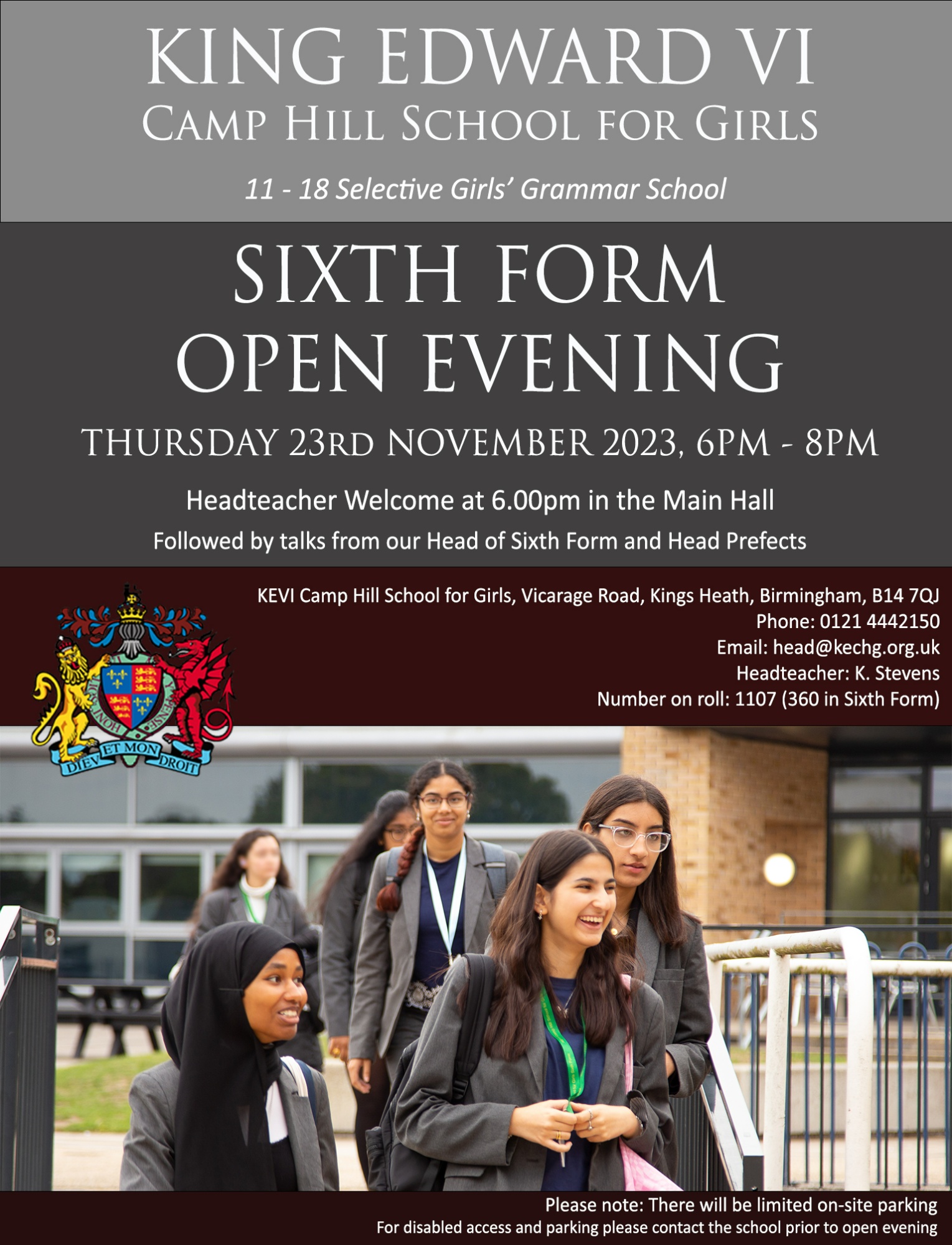 We look forward to seeing you!