Physical Education
The Physical Education Department develops the self-esteem, dignity and respect of all members of the school community. Physical Education is crucial to pupil development; it can contribute to spiritual, moral, cultural and most importantly physical development.
At King Edward VI Camp Hill School For Girls, sport plays an integral part of school life and personal development for many students. School sport promotes lifelong participation in exercise alongside skills in leadership, teamwork and commitment. We aim for students to achieve personal goals whether they are elite performance or just the enjoyment of participation. With a broad range of both curriculum and extra-curricular activities available to pupils, there are many opportunities for girls to get involved in sport, develop talents and fulfil their potential.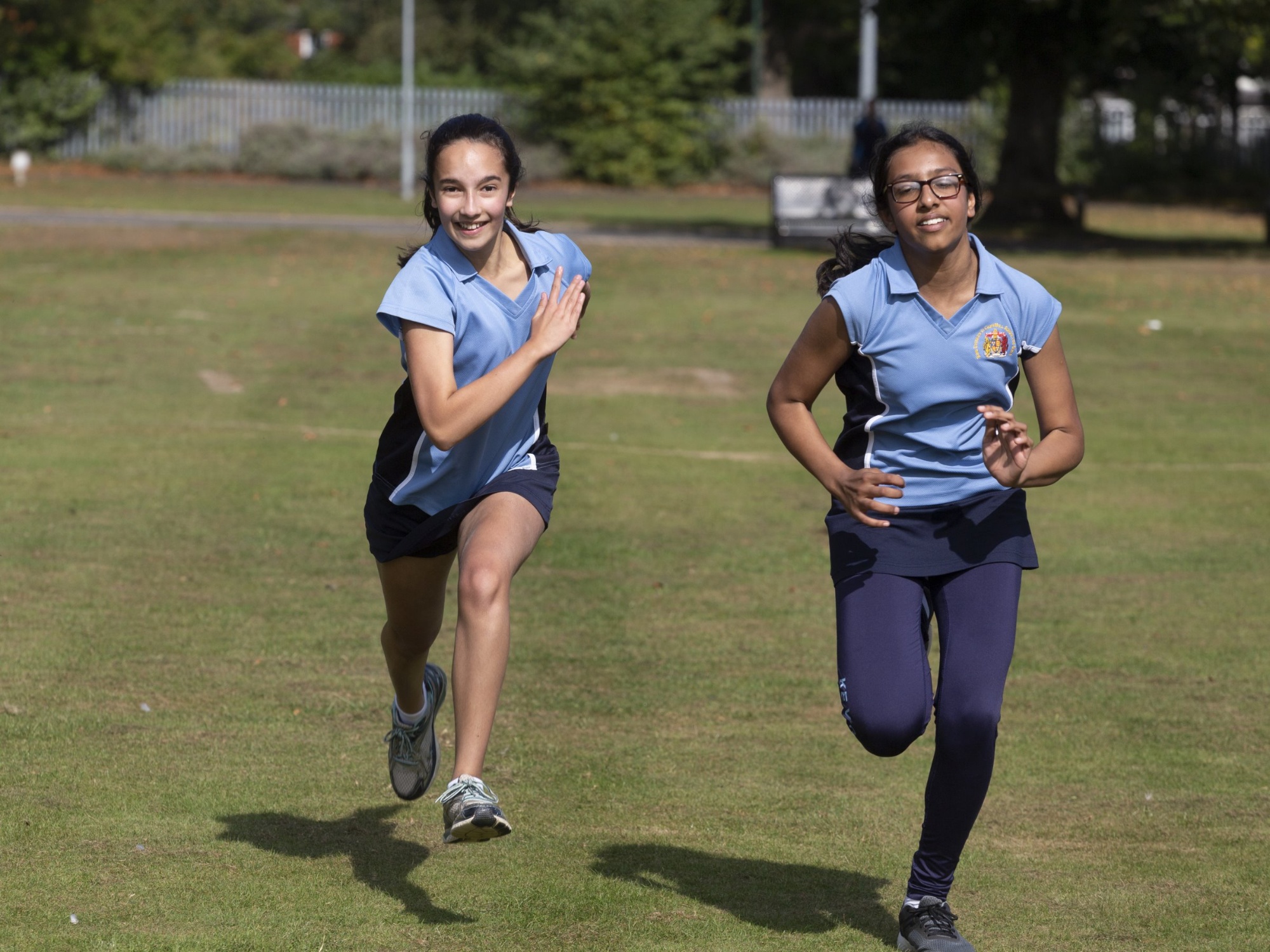 The Physical Education Department offers outstanding facilities:
Spacious playing fields which are available for use for a variety of winter and summer sports which can include football, handball, athletics, cricket and rounders
Hard-court outdoor playing surface marked with 5 netball courts which convert to 8 Tennis courts in the summer season
Fully-equipped traditional gymnasium
25m heated indoor Swimming Pool
Well-equipped double-sided Sports Hall, including fitness suite and dance studio
Changing areas are located in the sports hall and the gymnasium, both with shower facilities
Main storage areas are located in the sports hall and gymnasium
The department possesses 2 Sony camcorders, sound systems for teaching of dance and access to interactive whiteboards
Key Stage 3
Year 7 currently have 4 hours of games and two hours of PE per fortnight.
Year 8 currently have 4 hours of games and two hours of PE per fortnight.
Year 9 currently have 2 hours of games and 1 hour of PE per fortnight.
The year 7 & 8 curriculum currently includes netball, handball, gymnastics, swimming, dance, cricket, cross-country, athletics, rounders & tennis.
As girls move through the school they are introduced to new sports including badminton, volleyball and fitness as well as developing organisational, communication and leadership skills.
All pupils will develop their knowledge through umpiring and leading throughout their PE lessons and are encouraged to share their personal expertise and sporting interests with others in school.
Key Stage 4
Options Information
PE in Key Stage 4
Year 10 currently have 2 hours of PE per fortnight.
Year 11 currently have 2 hours of PE per fortnight.
In Key Stage 4 girls can opt to study GCSE PE. We currently follow the AQA Full Course Award which involves elements of practical and theory work.
What sort of topics will I be studying?
Theory 60%
Covers a wide range of topics some of which will also be covered in Biology, these include;
• Applied anatomy and physiology
• Movement analysis
• Physical Training
• Use of data
• Health, fitness and well being
• Sport psychology
• Socio-cultural influences
Practical 40%
You will be assessed in three practical elements which can be made up from the sports listed on the AQA website.
• One Team sport
• One Individual sport
• Plus either a team or individual sport
For more information about the course visit the AQA website
Key Stage 5
Year 13 currently have the opportunity to opt into 4 hours of sport per fortnight.
House Sport
The inter-house sports competition has a central role within the school. It incorporates netball, handball, dance, rounders, tennis and athletics which are fully-inclusive across all students in all age groups and provides a very important level of competitive and representative experience.
All competitions take place in curriculum time. The structure applies across all age groups and pupils are split into six houses: Cartland, Lichfield, Meriden, Priory, Stratford and Warwick.
We conclude the house sporting calendar with a traditional sports day involving a number of athletics events.
Extra-curricular
The PE department provide a full, extensive range of extra-curricular activities available to all pupils in school. Emphasis is put on participation in activities; clubs are available to all girls as well as those who would like to compete.
Activities offered include netball, handball, a range of dance styles, yoga, tennis, badminton, fitness, cross-country, rounders, athletics and swimming.
Teams
| | | |
| --- | --- | --- |
| Netball | U16, U14, U13 & U12 | U16 Regional finals 2020 |
| Tennis | U15, U14, U13, U12 & Fry Cup Team | U13 & U15 Regional Tennis Finals |
| Swimming | U18, U16, U15, U14, U13 & U12 | |
| Athletics | U15, U14, U13 & U12 | |
| Cross-Country | U16, U14 & U13 | U15 Regional Finals 2020 |
| Badminton | KS4 & KS3 | Key Stage 3 & 4 Regional Finals 2020 |
| Rounders | U15, U14, U13 & U12 | U16 National Finals 2019 |
| Key Stage 3 & 4 | School Games Finalists | Netball, Rounders, Cricket, Trampolining, Futsal, Badminton, Tennis, Handball 2019 |
Sport for all….and for life