Art & Design
Curriculum Intent & Rationale
Our vision is to equip students with innovative and imaginative ways of seeing the world around them, allowing them to express their ideas practically in an environment that promotes creative learning.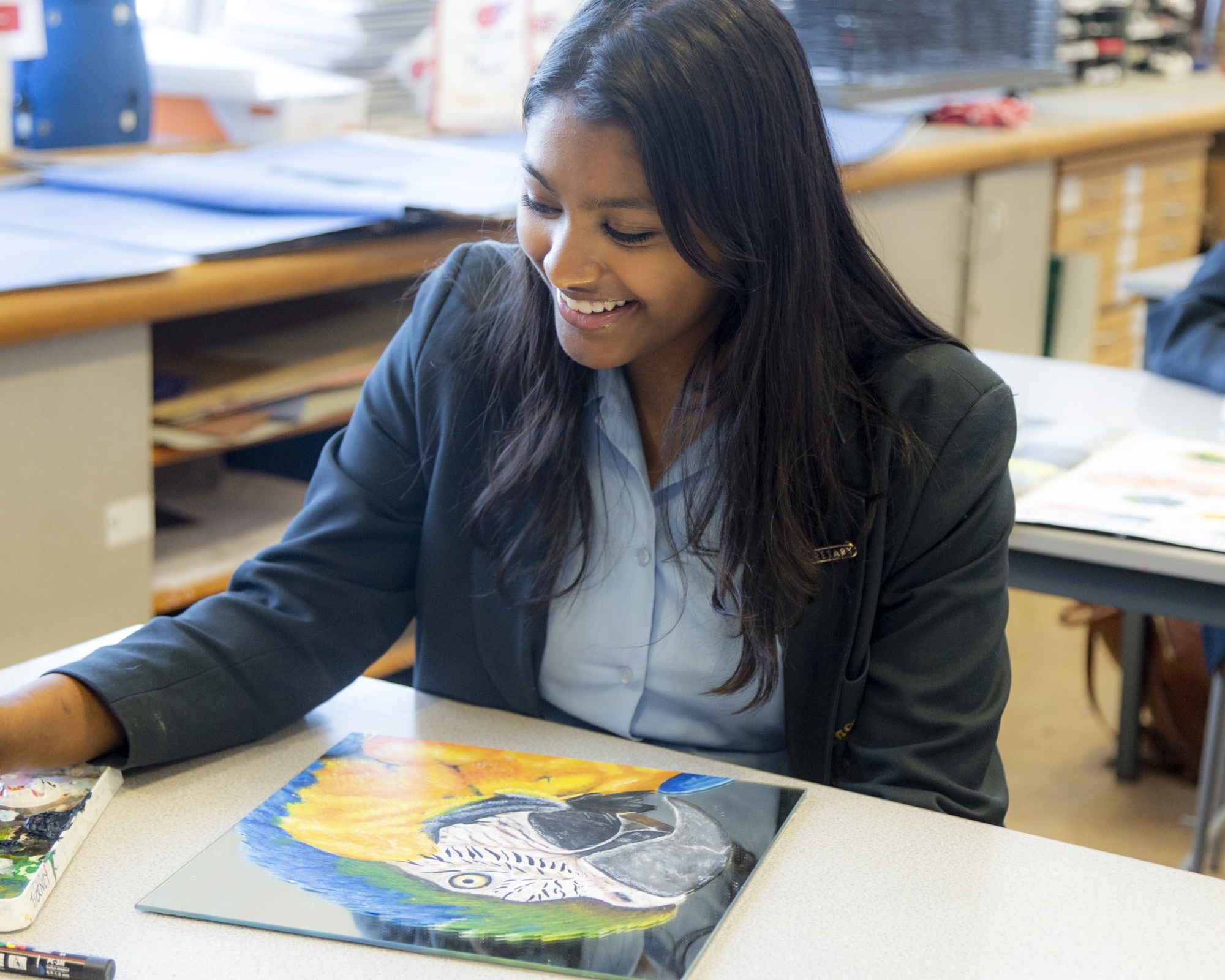 Our aim is for all students to leave their lessons with more than technical skills alone. We hope that they will be confident to use their imagination whilst also improving their knowledge and analysis by means of contextual study. We encourage them to learn to question beyond the pure aesthetics of Art.
Through the communication of ideas and feelings, Art is a language which also complements the scientific, mathematical and factually based subjects. Art encourages independent learners and we continually focus on developing a wide range of resources and experiences to offer our students, enabling them to grow as independent artists and designers. Enjoyment, together with increased self-esteem and confidence lie at the core of our initiative. The nature of our subject also supports students' intellectual emotional and social development. Art enriches the curriculum by promoting creative thinking and cultural awareness for all students, nurturing spiritual, aesthetic, intellectual and moral values in the lives of our young people.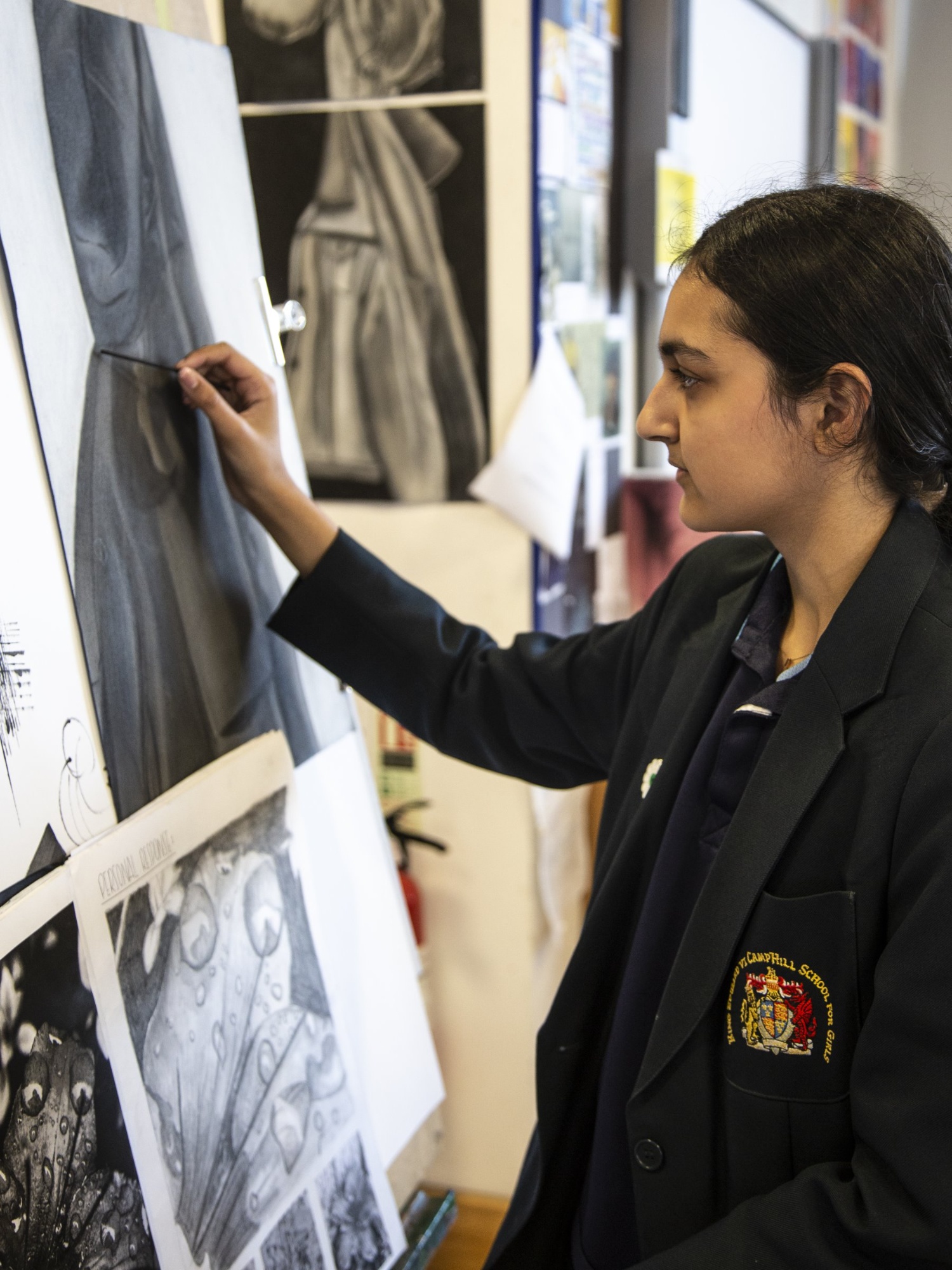 Through our Graphic Communication curriculum, we introduce learners to the role of designers, and the responsibility of adhering to a client's brief. Students are able to access professional standard software through a comprehensive programme of tutorials.
Implementing Our Curriculum
Key Stage 3
In Years 7 & 8, students' work is characterised by the need to understand the reality surrounding them. These are fundamental years, when students receive a strong grounding in the basic skills of drawing, painting, printing, 3D work, mixed media and design. Year 8 and 9 students are encouraged to discover that Art can convey personal and significant meaning. They are led more thoroughly through the creative process in order to finally realise their intentions via an exciting and varied skills based programme. The study of artists' work is incorporated into all projects and students are taught to articulate fluently in their responses and analyses.
'STEAM' in the Year 7 curriculum demonstrates the vital contribution that Art makes to the STEM subjects. Through dynamic design, problem-solving and group presentation work, Year 7 students have the opportunity to inject their creative ideas into hands-on practical activities.
Key Stage 4
Options Information
Fine Art
The standard of GCSE and A Level work regularly results in exceptionally sensitive and individual artwork, and the work of our students is celebrated through the vibrant displays, both within the department and around the school. GCSE students' work is exhibited in a South Area Network showcase at BCU in Birmingham City Centre every June. This is a prestigious event which fellow students, family members, staff, governors and visitors are invited to attend.
Graphic Communication
We are delighted to be offering Graphic Communication as an alternative Art and Design endorsement at GCSE. The assessment objectives and course structure are the same as those for Fine Art.
In Graphic Communication, students will use the latest Adobe Photoshop and Illustrator software to develop their ideas in response to a brief. High quality drawing and the experience of a breadth of media are also essential to successful outcomes in Graphic Communication.
Key Stage 5
Each summer we hold an annual exhibition in The Studio to celebrate the achievements of our A Level students. This is a prestigious event which fellow students, family members, staff, governors and visitors are invited to attend.
Students who are intending to study Art and Design at Higher Education are usually required to demonstrate their skills by means of an extensive portfolio of their own, and as departmental staff we have accumulated a great deal of experience Post-16 and Post-18 in order to support such pupils in their endeavours.
Art students who have studied with us have pursued careers in (including but not limited to) Architecture, Fine Art, Graphic Design, Illustration, Product Design and Fashion.
Visits to local and national galleries and exhibitions are organised annually. We also arrange additional workshops, educational visits and practical sessions around the needs of our students.
Lunchtime and after school sessions are offered throughout the school week, providing further opportunity for students to take advantage of the facilities and expertise offered by the Department.
We take pride in maintaining links with the wider community by entering students' work into local and National competitions and exhibitions.
Curriculum Maps
Main School
Sixth Form
Newsletters
Art Newsletters
---
Digital SAN Summer Art Showcase
Traditionally during the summer term, the schools in the South Area Network collaborate on an Arts Exhibition.
At the beginning of the academic year, with the ongoing uncertainty around COVID-19, the decision was made to go digital and celebrate the work of our KS3 students.
This Digital Arts Showcase celebrates the incredible work that takes place across all schools and the skills and talents of our students.
We are very proud of all our students work and we hope you enjoy the variety and creativity demonstrated in these presentations.
The Headteachers of the South Area Network of Schools.
---
Gallery of Student Work
Please feel welcome to browse through our virtual Art Galleries covering a selection of student work from Year 7 to Year 13.