Religious Studies
Religious Studies at Camp Hill aims to develop our students' understanding and awareness of different religious and other worldviews including a range of religious beliefs and ethical standpoints, which allows them to be constructive and considerate participants in a diverse global society.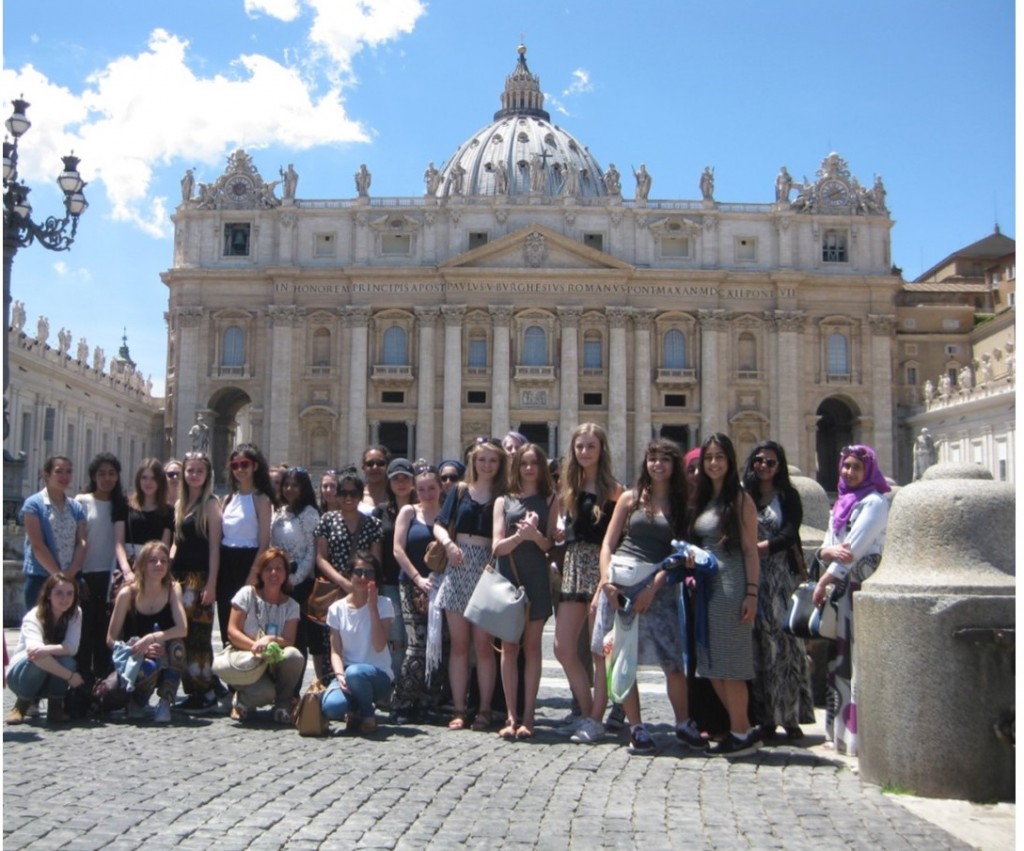 At Camp Hill School for Girls, Religious Studies is at all times inclusive and relevant for all of our students. This philosophy is well expressed in the passage below from the revised Walsall Agreed Syllabus (2016-2021) our adopted syllabus.
"Religious Studies is not coercive: none of the aims of Religious Studies encourage pupils to adopt or reject particular religious beliefs and practices. Instead, Religious Studies encourages all learners to be thoughtful about their own beliefs and worldviews in the light of the religions and beliefs they study. Religious Studies is not about making pupils into believers but trying to help them become literate and articulate about religions and beliefs, and to be thoughtful members of a plural society, so that in learning from religion they are able to make informed choices about how they want to live their lives whilst also understanding more about the faiths and beliefs of other people they meet."
Key Stage 3
The aims of our Key Stage 3 programme of study:
Religious Studies provokes challenging questions about meaning and purpose in life, beliefs about God, ultimate reality, issues of right and wrong and what it means to be human.
Our Religious Studies lessons equip students with knowledge and understanding of a range of religions and world views, enabling them to develop their ideas, values and identity.
Religious Studies develops, in students, the aptitude for dialogue. If they can do this in the classroom they can participate positively in our society which is diverse in relation to religions and world views.
Our Religious Studies programme allows for the study of religions and world views systematically, making progress by reflecting on the impact of religions and world views on contemporary life locally, nationally and globally to increasing levels of complexity and depth.
Religious Studies gives students skills needed to interpret and evaluate evidence, texts and sources of wisdom or authority.
In Religious Studies students are always learning to articulate clear and coherent accounts of their personal beliefs and ideas.
Our Schemes of Work are continually reviewed and evaluated by the department to ensure that we continue to meet our aims.
All of our students then move on to study full course GCSE at the end of their Year 9 programme of study.
Key Stage 4
The course starts in June of Year 9 which allows students to have two full years to study their course.
AQA GCSE Religious Studies Syllabus A has two papers:
Paper 1 Study of Religion- students carry out an in depth study of Christianity and Sikhism.
Paper 2 Themes – here students study three ethical issues and one philosophy of religion topic. When evaluating moral issues, we are able to refer to Christianity and Islam as well as non-religious world views.
Key Stage 5
Students who opt for A level study the AQA GCE Religious Studies
Paper 1 Philosophy of Religion and Ethics.
Paper 2 Buddhism and Dialogues.
Transition work for Year 11 moving into Year 12
What do Sixth Formers think of studying RS at A level?
Religious Studies Beyond the Classroom
We believe that good Religious Studies should extend beyond the classroom and so the department aims to offer range of enrichment opportunities, including our very popular residential trips to Rome and Amsterdam. Students are invited to attend lectures from eminent professors which encourage "blue sky" thinking, which we feel is as important as enriching their understanding of examination content. Our programme of local visits allows students to meet with believers in their places of worship, developing their understanding of faith in action in our community.
Curriculum Maps