Mathematics
Curriculum Intent & Rationale
In the mathematics department we support and build on the aims and vision of the school in the following ways:
We develop an appreciation and enjoyment of mathematics including its historical and current development, through offering a wide range of mathematical experiences and using a wide variety of learning materials and teaching styles.
We help students to reach their full potential in mathematical skills by the use of group work, class-work and individual study and by offering challenges at appropriate levels.
We help students to acquire the understanding, knowledge, skills and interests that are relevant to present and future needs and life skills, by having a well-prepared programme of study.
We assist and encourage each student to achieve the best qualifications they can by providing a broad, balanced and differentiated scheme of work, setting them high but achievable targets and by giving guidance and advice on entry for suitable examinations at appropriate levels.
We promote a sense of personal responsibility and disciplined learning through the course. We will encourage students to make positive responses to all tasks, from a pride in setting them out through to their assessment, meeting all deadlines on time.
We develop areas of the curriculum which we share with other subjects by continuing to build on links with other disciplines.
We promote respect for religious, moral and cultural values and tolerance towards those who hold different views by awareness of these issues in the general management of classes, the organisation of group work, discussion and particularly in the use of course materials and supporting text books which were selected for the way these matters have been carefully addressed.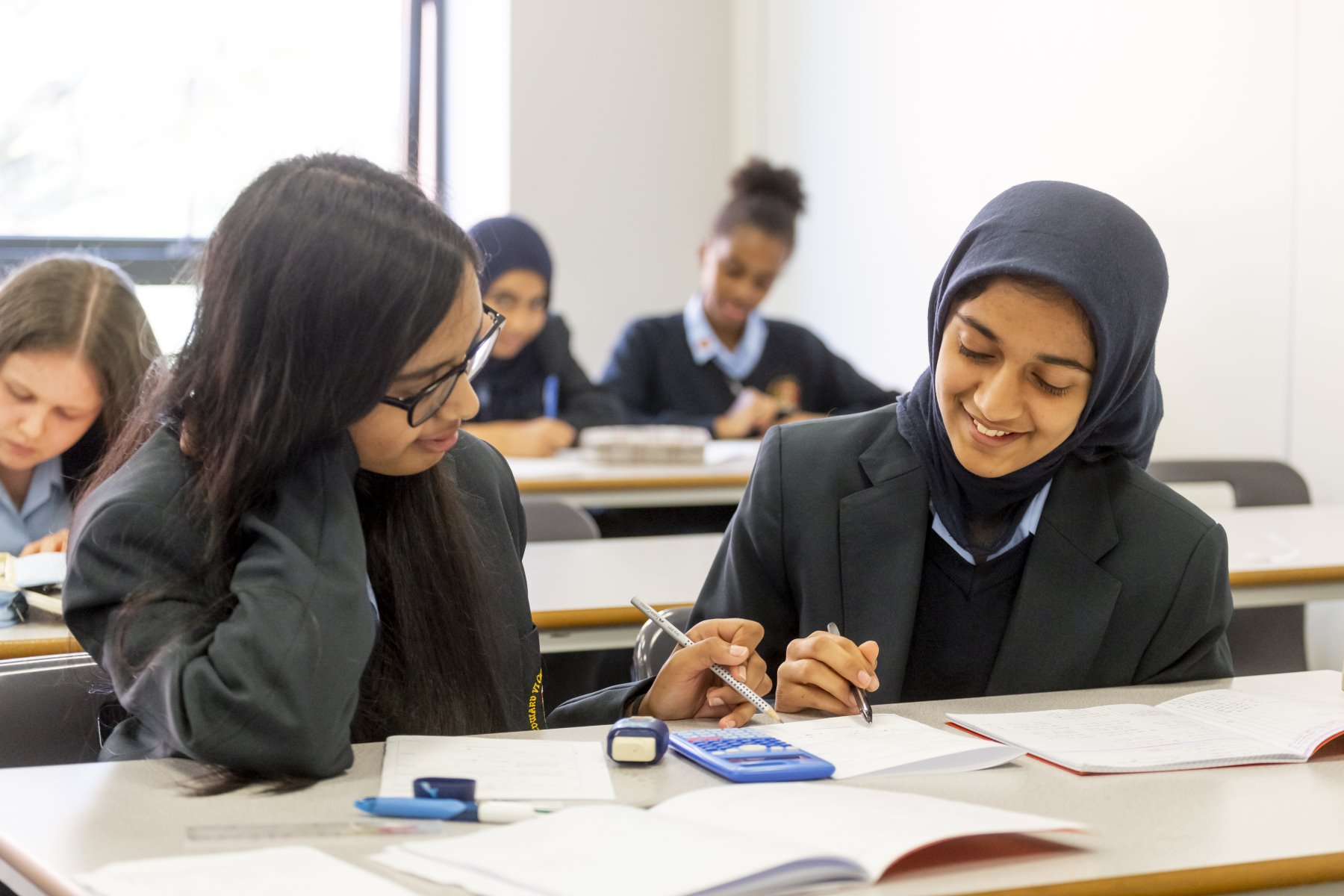 At Camp Hill, students develop the ability to solve demanding problems, to think on their feet, to reason logically, to explain their thought processes using precise language and to apply technology appropriately.
Mathematics is a challenging and exciting subject, often described as 'exercise for the brain'. It is satisfying to study in its own right and continues to be highly valued by employers in all fields.
We consider the abstract beauty and elegance of proofs, while also learning about the applications of mathematics in a range of contexts. Pupils are encouraged to discuss and develop their ideas with their peers and are given regular and thorough feedback on the progress they make.
Mathematics is an ancient subject, which is very much alive at Camp Hill today. The department continues to offer a range of additional support opportunities for key stages 3 and 4 and the sixth form, plus a whole host of extra mathematical enrichment activities including individual and team mathematics competitions, trips and lectures. In addition to our in-house activities, we have formed many partnerships with other schools in the area.
Implementing Our Curriculum
Key Stage 3
We build on learning at Key Stage 2 while introducing students to mathematical concepts that they are less familiar with such as algebra, Pythagoras' theorem and trigonometry, area and volume, statistics and probability.
Each year in Key Stage 3 we teach a varied set of topics suitable for the ability level of the students and consistently revisit topics through a typical mathematical spiral curriculum. For example, linear sequences are covered in Year 7 and then revisited in Year 9 where the topic of extended to quadratic and geometric sequences.
Students get the opportunity to explore spiritual, moral, social and cultural development through wider discussion opportunities, use of film and video, and through opportunities for extended reading, puzzles and games.
Key Stage 4
Students study the Edexcel GCSE in mathematics (higher tier). Learning opportunities are a combination of new content coverage and revision of material at Key Stage 3. This ensures that prior learning opportunities are linked into the Key Stage 4 scheme of work.
The content of the GCSE is covered well in advance of the end of Year 11, allowing specific targeted revision opportunities to be provided that are suitable for all learners. Setting in Key Stage 4 allows targeted teaching, support and appropriate differentiation while ensuring that all students cover the whole specification to enough detail to achieve the top grades.
Additional extension and enrichment opportunities, as well as links to spiritual, moral, social and cultural development, reading and careers are provided throughout.
Key Stage 5
In Years 12 and 13 students study for the Edexcel A level in mathematics where the course is broken down into pure mathematics (algebra, trigonometry, calculus, proof, sequences and logarithms) and applied mathematics (mechanics and statistics).
Links are made to the Key Stage 4 programme of study and the first part of the course is taught in a way that students who have missed content from KS4 are in no way disadvantaged. A baseline test is administered in week 7 to check understanding. This enables appropriate early intervention to be organised.
Students can also study for an additional A level in further mathematics where they cover a broader and extended content from both pure and applied mathematics.
Exam results are excellent and the majority of Year 11 chooses to study mathematics in the Sixth Form, again obtaining outstanding results. Many students go on to study degrees which contain mathematics as a key element.
Curriculum Maps
Maths Newsletters
2023-2024
2021-2022
2018-2019